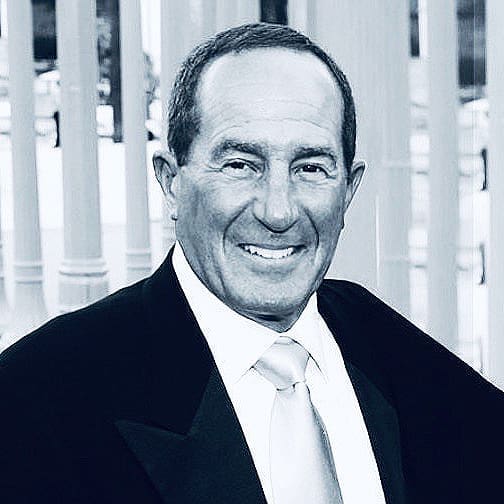 Geoffrey Palmer, Billionaire Developer
A few years ago, billionaire Geoffrey Palmer was crowned with an ignominious title: "Downtown L.A.'s worst developer." It was easy to understand why. From building apartment complexes next to polluting freeways to getting sued for allegedly keeping millions in rental security deposits, Palmer has a horrible reputation. Now he's shelling out millions to stop Proposition 21 — although the billionaire is trying to hide that fact.
Prop 21 is the November ballot measure that puts limits on unfair, sky-high rent increases, reins in corporate landlord greed, and prevents homelessness. Top experts at USC, UCLA, and UC Berkeley agree that sensible rent limits are key for stabilizing California's housing affordability crisis. It's why the California Democratic Party, U.S. Senator Bernie Sanders, labor and civil rights icon Dolores Huerta, Congresswoman Maxine Waters, the Los Angeles Times, among many others, have thrown their full support behind Prop 21.
Predictably, Palmer wants to keep charging outrageous rents. He opposes the ballot measure.
Not one for humility, Palmer praises himself as a "true visionary" and owns or manages more than 11,000 apartments in Southern California. He's one of the largest luxury-housing developers and landlords in California, charging sky-high rents that have turned him into a billionaire.
While California renters struggle to make ends meet, Palmer lives a life of extravagance, owning palatial, multi-million-dollar estates in Beverly Hills, Malibu, and Aspen, Colorado. His Tudor-style mansion in Beverly Hills is estimated to be worth a whopping $16.3 million.
That's where Palmer held a big bash for Donald Trump in 2019, hosting a fundraiser that raked in millions — a minimum donation to attend the soirée was $1,000 for an individual and $100,000 per couple. Geoffrey Palmer, in fact, has long been a loyal supporter of Trump's. Since 2016, he's shelled out a whopping $14.8 million to campaign or political action committees that back Trump, according to FEC filings.
Sometimes Palmer's campaign contributions haven't been on the up and up. Politico reported that, in 1991, the "California State Fair Political Practices Commission charged Palmer with 15 counts of illegally laundering campaign contributions to try to prevent Santa Clarita from incorporating, after an anonymous tip hinted that Palmer had encouraged employees of his company to donate to a PAC opposed to the incorporation and had reimbursed those employees with both company and personal funds. Palmer and his company ended up paying $30,000 in fines for the violations."
With Prop 21, Palmer is up to his dirty tricks again.
Rather than contribute directly to the No on Prop 21 campaign, Blackstone Group, Western National Group CEO Michael Hayde, and Palmer, among other corporate landlords, are trying to hide their identities by using a shell committee to funnel millions to No on 21.
The Yes on 21 campaign recently filed a formal complaint with the Fair Political Practices Commission, charging Palmer and his crew with money laundering and violating the Political Reform Act.
Shady moves are completely in character with Palmer.
The billionaire specializes in building luxury-housing complexes next to busy freeways — the kind of housing that's been nicknamed "black-lung lofts." For years, USC researchers and a host of other experts have shown that housing near freeways seriously jeopardizes the health of children, pregnant women, the infirm, and seniors. Palmer doesn't care.
In 2007, through a lawsuit, Palmer was successful in overturning L.A.'s zoning requirements for including affordable housing in new developments — known as "inclusionary housing." Housing activists hold up inclusionary housing as a key tool to ensure that luxury-housing developers build affordable housing during California's housing affordability crisis. Once again, Palmer didn't care — he wanted to make maximum profits no matter the consequences for the rest of us.
In 2019, Palmer was hit with a class-action lawsuit that charged him with wrongly keeping millions of dollars in rental security deposits from thousands of tenants in Southern California.
San Diego attorney Jimmie Davis Parker said that Palmer "through his company systematically and in bad faith, retained security deposits by failing to properly document the work that they charge tenants for when they move out."
The lawyer added that unlike Geoffrey Palmer, "Most people who rent apartments are not wealthy individuals and they often times rely upon the return of their security deposit to help with the expense of moving locations."
In 2018, Palmer contributed $2 million to stop Proposition 10, the statewide ballot measure that would have expanded rent control in California. Palmer's cash helped the No on Prop 10 campaign pay for a massive, and deceitful, TV ad campaign that tricked and confused voters. Prop 10 lost at the polls, despite the endorsements of more than 525 social and housing justice organizations, civic leaders, and elected leaders.
Now, in 2020, Palmer has contributed $2,075,000 to the California Business Roundtable Issues PAC, which has funneled $5.6 million to No on Prop 21: Californians to Protect Affordable Housing. Palmer is continuing his years-long attack on affordable housing California.
While activists argue that the COVID-19 pandemic is slamming California's 17 million renters and need Prop 21 more than ever, Geoffrey Palmer clearly shows no sympathy. Judging by his track record, he's only out for myself — no matter the human cost.
PAID FOR BY HOMEOWNERS AND TENANTS UNITED, SPONSORED BY AIDS HEALTHCARE FOUNDATION. COMMITTEE MAJOR FUNDING BY AIDS HEALTHCARE FOUNDATION.