About
AIDS Healthcare Foundation (AHF), based in Los Angeles, is a global non-profit serving more than 1.5 million patients in 45 countries, including the United States, Mexico, South Africa, India, Russia, and China. It is the largest non-profit provider of HIV/AIDS medical care in the world.
Founded as AIDS Hospice Foundation in 1987, AHF provided housing and medical services to terminally ill AIDS patients during the height of the AIDS epidemic. Later, after the discovery of the AIDS cocktail in the mid-1990s, AIDS Healthcare Foundation focused on providing free HIV drug treatment in countries all over the world. AHF has saved countless lives.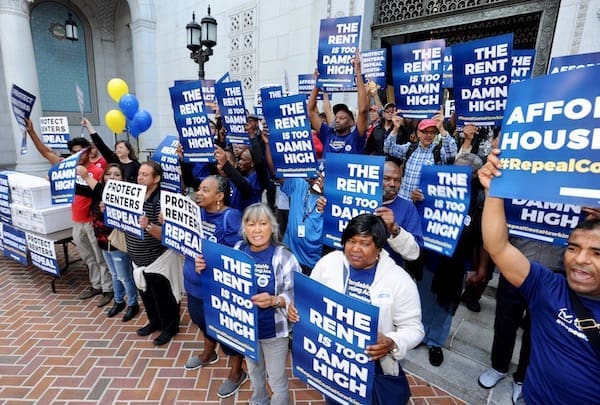 AHF's longtime mission statement is "cutting-edge medicine and advocacy regardless of ability to pay." The organization believes that advocacy helps improve service delivery and has actively pushed for reforms and legislation to improve health outcomes.
In 2017, AHF returned to its housing roots as California's housing affordability and homeless crises increasingly threatened the health of AHF patients. Widespread gentrification and displacement in Los Angeles and San Francisco were particularly problematic for AHF patients, who struggled to find stable, affordable housing. AHF patients in Atlanta, Chicago, New York, Seattle, and Washington D.C. have been facing similar difficulties. Housing is a public health issue.
The AHF Board of Directors voted to formally engage in the fight against gentrification. AHF seeks to increase tenant protections and advance progressive housing policy through its advocacy division Housing Is A Human Right. AHF and Housing Is A Human Right played a key role in seeking to repeal statewide rent control restrictions through California's Proposition 10 and Proposition 21.
In addition to advocacy, AHF is committed to building affordable housing for those most in need through Healthy Housing Foundation. HHF has purchased and repurposed hotels in the Los Angeles area, turning them into housing for people who live at extremely low and very low-income levels. HHF's adaptive reuse model produces quality, affordable housing quickly and inexpensively and can be replicated by the government.
For addressing the housing affordability crisis, AHF carries out a multi-pronged, community-based approach known as the "3 Ps":
Protect tenants: prevent gentrification and homelessness through rent control and other tenant protections;
Preserve existing affordable housing: preserve existing affordable housing for the poor and working- and middle-class residents, not demolish it to build luxury housing;
Produce new affordable housing: produce new affordable housing through the adaptive reuse of existing buildings and cost-effective new construction.