On Friday, August 5, Housing Is A Human Right and its parent organization, AIDS Healthcare Foundation, unveiled an adaptive reuse exhibit in Downtown Los Angeles at the Barclay Hotel. It explains how the adaptive reuse of existing buildings is a cost-effective, urgent way to produce affordable and homeless housing. California State Sen. Sydney Kamlager and other elected officials attended the grand opening.
Since 2017, AIDS Healthcare Foundation has purchased 13 buildings in the L.A. area — many of them single-room occupancy hotels — and quickly produced more than 1,400 units of low-income and homeless housing. Healthy Housing Foundation, the housing provider division of AHF, manages the properties. Housing Is A Human Right is the housing advocacy division of AHF.
"We want to build a model that government and organizations can replicate," explained AHF President Michael Weinstein at the exhibit. "Adaptive reuse is the low-hanging fruit to solve the homelessness and housing affordability crises."
At the grand opening, State Sen. Sydney Kamlager (below, middle) presented certificates of recognition to AHF and Housing Is A Human Right for their service to the community and providing quality housing. Weinstein (below, right) and Housing Is A Human Right Policy Director Susie Shannon (below, left) accepted the certificates and thanked Kamlager for her commitment to urgently address the housing affordability and homelessness crises.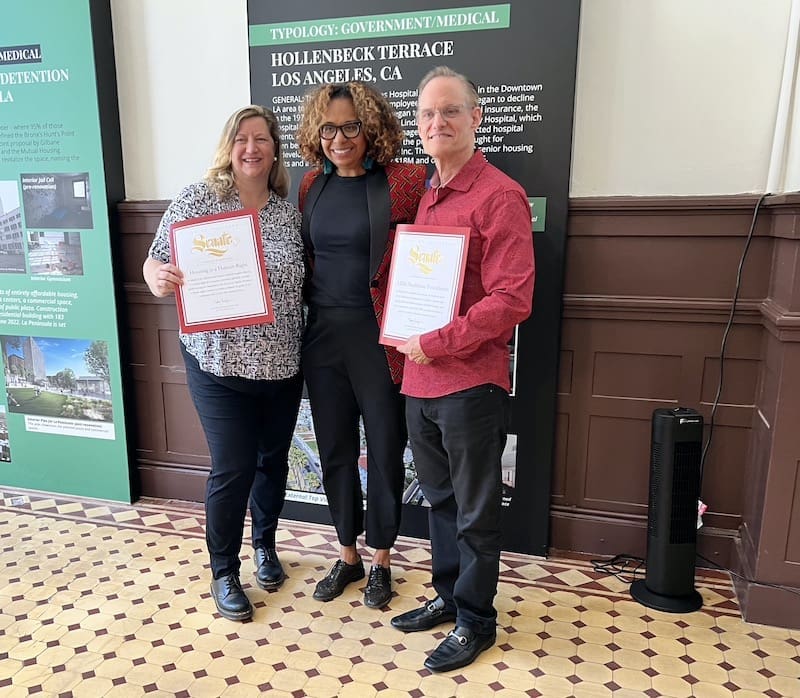 West Hollywood City Council Member Lindsey Horvath also dropped by. It was held at the Barclay Hotel in Downtown L.A. The building was recently purchased by AHF, and is now undergoing a renovation. The Barclay will provide more than 150 units of low-income and homeless housing.
"We can bring housing online quicker and more affordably by using existing buildings," said Susie Shannon. "And we are saving incredible architecture."
Weinstein added, "Adaptive reuse is good for the environment. It preserves historic buildings. And it maintains the fabric of the community."
The exhibit is by appointment only between 2 and 6 p.m. on Tuesdays and Thursdays. Please make the appointment through our online portal: click here.
Housing Is A Human Right will also urge elected officials to visit so they can better understand the effectiveness of adaptive reuse, and then create policies that implement it.
Housing Is A Human Right advocates for the "3 Ps": protect tenants through rent control and other protections; preserve existing affordable housing; and produce new affordable housing through adaptive reuse and other strategies.
California is facing a humanitarian crisis, with more than 160,000 people living without a home. In addition, middle- and working-class Californians desperately need affordable housing. More urgent and cost-effective than trickle-down housing policies, adaptive reuse directly addresses the housing affordability and homelessness crises.