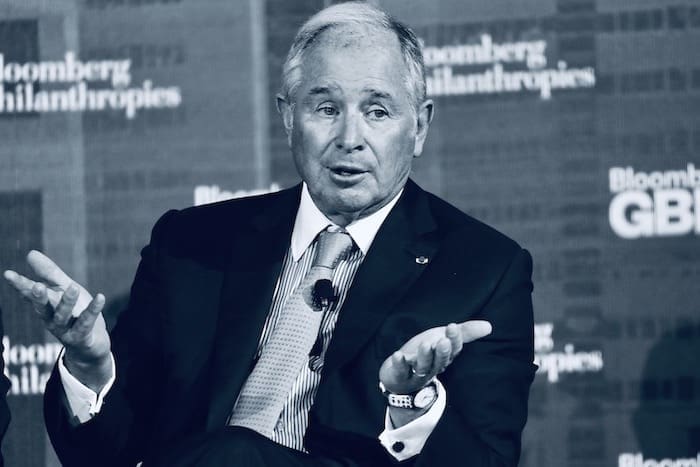 Stephen Schwarzman
Part I: Corporate Predator
On March 22, 2019, Leilani Farha, the United Nations special rapporteur on the Right to Housing, and Surya Deva, the chair-rapporteur of the United Nations Working Group on human rights and transnational corporations, sent a stern, seven-paged letter to Blackstone Group CEO Stephen Schwarzman. One of the richest men on the planet, Schwarzman parties with starlets, advises Donald Trump, and lives in multi-million-dollar mansions all over the world. He's not used to getting reprimanded, but that's what he was going to get.
Farha, who's investigated housing and homeless crises around the globe, and Deva, a respected law school professor in Hong Kong, have a deep, probing knowledge of housing, human rights, and the devastation caused by the runaway greed of multinational corporations. For them, Schwarzman and Blackstone, one of the largest corporate landlords in the world, were key players in the global housing affordability crisis, which threatens the health and lives of hundreds of millions of men, women, and children. Schwarzman and Blackstone needed to be held accountable.
In fact, Reuters recently found that Schwarzman is Wall Street's largest political contributor in the United States, shelling out more than $27 million to campaign committees, Donald Trump, and other politicians. The billionaire is clearly attempting to shape American politics and policymaking to his favor. Schwarzman has already contributed $4.4 million to Trump's campaign or political committees connected to Trump, according to Federal Election Commission filings.
The UN experts didn't stop with those three points. They laid out a long list of Schwarzman and Blackstone's sins:
Pressed to make big profits, Invitation Homes and other corporate landlords push "undue rent increases making housing unaffordable for many existing tenants and reducing the availability of affordable housing stock" in the United States.
Invitation Homes "is quick to threaten eviction or file eviction notices to late payment of rent or late payment of fees, no matter the circumstances."
Invitation Homes tenants "indicated that they feel insecure living in these conditions, where above average rent increases, exorbitant fees, or the smallest infraction can result in arrears and lead to eviction and the threat of homelessness."
Blackstone and its subsidiaries focus on purchasing apartment buildings in "undervalued" neighborhoods, which often means properties in working-class communities. The corporate landlord then refurbishes the buildings and increases rents ("often exorbitantly"), "driving existing tenants out, and replacing them with higher income tenants."
Blackstone "used its considerable resources and political leverage to influence housing policy in a manner that is inconsistent with the right to housing," noting that the corporate landlord had shelled out, in 2018, "at least $6.2 million" to defeat California's Proposition 10. The ballot measure would have repealed a state law that places severe restrictions on local rent control policies.
Farha and Deva concluded that "Blackstone's and its subsidiaries' business model is pushing low-income, and increasingly middle-income, people from their homes. Blackstone's practices… have abruptly increased the rental payments of single-family rentals, making them unaffordable for millions of existing residents, decreased the availability and affordability of social housing, and has undertook aggressive evictions to protect rental income streams to satisfy investors."
The letter was damning, and grabbed headlines around the world. The Guardian, based in London, proclaimed:"UN Accuses Blackstone Group of Contributing to Global Housing Crisis." CBS News blared: "UN Blasts Blackstone Group for Worsening the U.S. Housing Crisis." One can only imagine how Schwarzman, a ruthless businessman who once told The Wall Street Journal that he wants to "inflict pain" on and "kill off" his rivals, reacted. But housing justice activists, who work on the frontlines of the housing affordability crisis, have been making similar charges for years.
The Alliance of Californians for Community Empowerment and The Center for Popular Democracy noted in a 2019 report: "Through vulturous practices and the exertion of political influence through campaign contributions and political spending, Blackstone's Invitation Homes and Equity Residential, like other private equity and Wall Street landlords, profit from and exacerbate California's housing crisis, pushing more people into housing instability." 
In 2020, the Action Center on Race & the Economy also cited Blackstone's disastrous impact on renters: "Well before the COVID-19 crisis hit, many American households, especially households of color, were spending huge proportions of their income on housing, leaving little left over for other necessities, and nothing for savings… Many cities were already experiencing housing affordability crises, with renters and owners struggling to pay rents and mortgages and homelessness skyrocketing, while corporate landlords and lenders prospered."
Even students and faculty at two of the most prestigious institutions in the world — the Massachusetts Institute of Technology and University of Oxford — slammed Schwarzman and Blackstone. 
"Concerns about Schwarzman are far ranging," the MIT contingent wrote, "from being an advisor to Donald Trump to heading the Blackstone Group that spent millions opposing an affordable housing ballot measure in California."
The letter continued, "Last spring, Schwarzman hosted the Saudi Crown Prince Mohammed bin Salman (MBS) — a war criminal in charge of a repressive monarchy — after Blackstone received a $20 billion investment from his government… Schwarzman's alliance with the Saudi crown prince represents an agenda of profit at any cost, a far cry from the pious statements about 'ethics" pronounced in public."
Schwarzman, who ranks 86th on the Bloomberg Billionaire Index and is worth $17.9 billion, tries to evade these criticisms by promoting himself as a humanitarian. He is anything but. The billionaire's story encapsulates the pervasive corporate greed that's fueling gentrification, sky-rocketing rents, and homelessness in California and beyond.
Blackstone has now jumped into the battle over California's Proposition 21, the ballot measure that puts limits on sky-high, unfair rent increases. Blackstone and Schwarzman want to stop the initiative. But rather than contribute millions directly to No on Prop 21, Blackstone is sneakily using a shell committee to funnel campaign cash to No on 21 — and to avoid the media spotlight and more public scrutiny. It didn't work, of course, and Blackstone has been exposed. The stealth maneuver only underscores Blackstone's shady business practices.
It's why housing activists, in California and around the world, are determined to rein in Schwarzman and corporate landlords. These modern-day robber barons will do anything to protect, and grow, their billions — no matter the human cost.
PAID FOR BY HOMEOWNERS AND TENANTS UNITED, SPONSORED BY AIDS HEALTHCARE FOUNDATION. COMMITTEE MAJOR FUNDING BY AIDS HEALTHCARE FOUNDATION.