The California Apartment Association, one of the most powerful landlord lobbying groups in the state, has a long, sordid history of opposing renter protections. For decades, they've shown up anywhere and everywhere in California to kill anything that prevents landlords from making maximum profits.
"They send people into any locality when they get a whiff of rent control," El Cerrito housing activist Karina Ioffee told me not long ago. "They're an organization that has massive resources. They're a force to be reckoned with."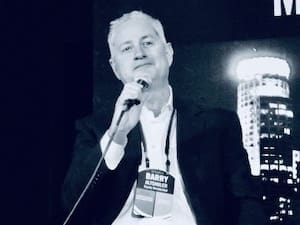 The CAA is run by CEO Tom Bannon (pictured above) and CAA Board of Directors President and Equity Residential executive Barry Altshuler. It's now leading the charge to stop the Rental Affordability Act, a November ballot measure that allows communities to expand rent control policies. With unemployment skyrocketing and middle- and working-class Californians unable to pay already unfair, sky-high rents, it's one of the most important initiatives on the statewide ballot.
"I strongly support the Rental Affordability Act," U.S. Senator Bernie Sanders said in his endorsement of the measure. "This initiative will allow California cities to pass sensible limits on rent increases and protect families, seniors, and veterans from skyrocketing rents."
In fact, top experts at USC, UCLA, and UC Berkeley agree that rent control is a crucial tool to stabilize California's housing affordability crisis.
"The housing crisis requires a range of strategies," explained University of Southern California Professor Manuel Pastor, co-author of the USC Dornsife's Rent Matters report, "[and] moderate rent regulation is a useful tool to be nested in broader strategy. It has fewer damaging effects than are often imagined, it can address economic pain, and it can promote housing stability. And housing stability matters because it is associated with physical, social, and psychological well-being; higher educational achievement by the young; and benefits for people of color."
Those words hold even more true in this age of the coronavirus pandemic, which has slammed people of color and middle- and working-class Californians. So what's CAA's approach to the plight of our state's most vulnerable? The landlord lobbying group is sponsoring the main political committee to oppose the Rental Affordability Act.
Called Californians for Responsible Housing, the CAA-sponsored committee has raised $6.9 million, including $1 million from Essex Property Trust, $426,220 from Equity Residential, and $292,950 from AvalonBay Communities. That money, and tens of millions more, will be used to finance a statewide TV ad campaign that will try to scare and confuse voters. The California Apartment Association did that, in 2018, for Proposition 10, and the organization will do it again for the Rental Affordability Act.
The California Apartment Association will claim to be concerned about the state's devastating housing affordability crisis, but, in reality, the landlord lobbying group wants to keep the status quo of unfair, sky-high rents. Its call to build more housing (which means more luxury housing for a housing affordability crisis) does nothing to urgently help middle- and working-class Californians who are struggling right now.
Long known to use bullying tactics against housing activists and apply intense pressure on local politicians, the California Apartment Association recently tried to repeal a temporary rent freeze in Santa Ana — in the middle of the pandemic.
"I call on you to continue standing up for working-class and immigrant residents in the city that have been economically impacted," Santa Ana resident Carlos Perea told city politicians. "I understand landlords who shamelessly want to continue to raise rents during this global crisis have been putting pressure on you. That is not just disappointing but morally wrong."
Fortunately, the Santa Ana City Council listened — and maintained the freeze. But many activists believed that CAA's hard push in Santa Ana was another disturbing example of its strong-arm, extremist ways: even during a global pandemic, the CAA was still trying to scrap a temporary measure that kept people in their homes and safe.
It was a move that can only be described as heartless, and the California Apartment Association will do everything it can to stop the Rental Affordability Act. For the CAA, profits always come before people — no matter the circumstances.